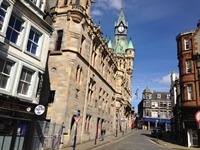 Dunfermline
Dunfermline is home to some of Fife & Scotland's finest Historical Attractions and Tourist Venues.
Dunfermline's perfect location offers you the ideal base to discover the magnificent Kingdom of Fife, as well as Edinburgh, Stirling and the Trosachs.
Dunfermline also has 4 Spas, 2 Bowling Alleys and 4 Golf Courses, plus we are within easy driving distance of, St. Andrew's for any keen Golf enthusiast and Knockhill Racing Circuit for the keen motor sport enthusiast, and within a short distance the Scottish Vintage Bus Museum, The Scottish National Water Ski Centre and Craigluscar Activities which offers a great day out, offering Quad bikes, clay pigeon shooting, tractor driving and hover craft driving.